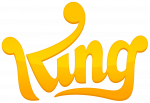 King is a leading interactive entertainment company for the mobile world, with people all around the world playing one or more of our games.
We have developed more than 200 fun titles, and offer games that are enjoyed all around the world.
Our franchises include Candy Crush, Farm Heroes, Pet Rescue and Bubble Witch.
We have 285 million monthly active users as of first quarter 2018 across web, social and mobile platforms.
At King, we design games with a broad appeal, which allow people to play for a moment, then move on with their day and pick up their game later. Our games are also synchronised across platforms, allowing players to switch seamlessly between devices and platforms and continue their game wherever they left off, so they can play anywhere, any time and on any device. For us, this is encapsulated in the idea of bitesized entertainment.
We make our games available for free, while players can purchase virtual items priced relative to the entertainment value they provide. We embed social features in our games that enhance the player experience.
We also build on a unique and passionate company culture predicated on collaboration, humility and respect. We believe all of these elements in combination have made our games a great part of our players' daily entertainment.
King has game studios in Stockholm, Malmo, London, Barcelona, Berlin, San Francisco and Seattle, along with offices in Malta, Tokyo and Bucharest.
King was acquired by Activision Blizzard Inc. (Nasdaq ATVI) in February 2016 and operates as an independent unit of the company.