Will Freeman
Freelance Games Journalist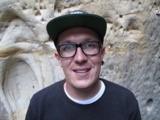 Will is a freelance games journalist. At almost 13 years into the job, he has by lines across The Guardian, Edge, Eurogamer, Kotaku UK, Vice Waypoint, IGN and others. He's also found a niche covering games for the games industry. He stood as Develop magazine's editor, and has contributed to GamesIndustry.biz, Pocketgamer.biz and MCV. He is currently editor of TheGamingEconomy. Will is also a game script editor, consultant, awards judge, events curator and researcher. Last year Will took home a champion's trophy at the UK Yo-Yo Nationals… competing in the lowliest division possible.
Will Freeman is speaking at the following session/s
KEYNOTE: Twenty Years of Designing Games, Managing Teams and Learning to Make Your Own Luck
Tuesday 3rd November:
17.00 - 17.30
Creative Director at PlayStation and Pixelopus, Dominic Robilliard, sits down in this fireside chat to discuss his 20 year career in the industry. The discussion will cover his beginnings in QA at SEGA, then starting in design at Sony London Studio, working on such titles as The Getaway Franchise, and 8 Days. During his time at Lucasfilm/LucasArts he got a taste for full scale AAA but also small team development with the Special Edition re-release of Monkey Island and Lucidity (LucasLabs). If we are lucky, Dom might share his experience of working with George Lucas for two years as the director of Star Wars 1313.
He'll talk about how his past influenced his current passion project: PixelOpus and managing a team made of students and recent graduates having their first experience in the game's industry. Mentoring them from their first small project, Entwined and growing them to a more senior team capable of Concrete Genie and beyond. Dom's passion for gameplay driven narrative, managing large and small teams, and breaking into the industry will be an exciting 45 minute session.
Interview by Will Freeman, Freelance Games Journalist