Tommy Thompson
AI and Games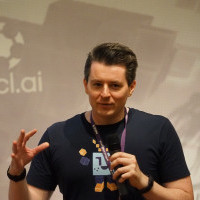 Dr Tommy Thompson is a game AI researcher and consultant, game developer and senior lecturer. With a PhD in machine learning and automated planning applications for video games, Tommy has over 15 years experience working in higher education, artificial intelligence and video games, including a four-year stint as the course leader of the BSc in Computer Games Programming at the University of Derby, over 40 academic publications in game AI research, bylines for MCV and a co-organiser of events such as the nucl.AI conference. In addition he is the co-founder of Table Flip Games, a small independent games company through which he has published his own titles and worked with other games and media companies. He is best known as the voice and writer behind 'AI and Games', a YouTube show that explores how artificial intelligence is adopted within the video game industry as well as the academic research that seldom reaches a wider audience. Operating since 2014, the channel has garnered millions of views and is celebrated by students, developers, academics and casual game players alike. It stems from a desire to help the wider world understand not just how AI works, but how it enables our favourite gameplay experiences and the open opportunities still ahead in the field. Broadly disseminating the incredible work of developers and researchers around the world and helping nurture a new generation. Since 2018 'AI and Games' has transformed into a full-fledged consultancy business. With work ranging from business analysis of AI technologies for some of the biggest companies in the industry to working with smaller indie teams as programmer and designer of AI systems.
Tommy Thompson is speaking at the following session/s
AI-Demystified: The Present and Future of Artificial Intelligence and Games
Monday 2nd November:
10.00 - 10.30
The last few years has seen the term "Artificial intelligence" become increasingly ubiquitous: as sensationalised headlines dominate our media and new projects and initiatives use the term in an effort to garner attention. In amongst all this is video games: an industry that has historically used artificial intelligence as means of performance theatre, with a variety of bespoke tools and methodologies designed to support these goals, but in-turn alienating games from other industries given the unique challenges faced. In the last few years AI has seen major breakthroughs in the area of Machine Learning - and more specifically 'Deep Learning' - but what does it do? How does it work? And more importantly, how is it relevant to the video games we make and how we make them? In this talk we're going to establish the state of play for AI and video games: how it has being used up until now, explaining how machine learning differs from 'classical' AI, the risks and opportunties of deep learning, but also some of the more novel innovations and opportunties emerging in corporate and academic research that will shape our working practices and the games we make in the coming years.
Takeaway:
An overview of common tools, technologies and applications of AI in the video games industry.
How we can expect to see deep learning impact the games industry in the next 3-5 years.
Tools, technologies and collaborations available to smaller studios in the UK and overseas.