Simon Prytherch
Kwalee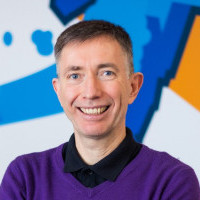 Simon Prytherch brings over 30 years of industry experience to his Head of Publishing role at Kwalee, with previous positions including seven years at Codemasters, where he headed up key titles such as LMA Manager. Simon has also been CEO of Lightning Fish Games, Chromativity and Fluid Games, ahead of a recent Software Development Manager role at Amazon. Simon's focus at Kwalee is to replicate the chart-topping success of third-party titles such as Rocket Sky! multiple times over, and build an industry-leading publishing team.
Simon Prytherch is speaking at the following session/s
What makes a successful hyper-casual game?
Hyper-casual games are topping the mobile app stores with great regularity, but there remains some uncertainty over what exactly makes a game hyper-casual. In this session, Kwalee's Head of Publishing Simon Prytherch will first provide some core definitions for those unfamiliar with the term, before going into a deeper exploration of the elements that all the most successful hyper-casual games share. What should a hyper-casual game look like? How can you bake a viral appeal into your game from the very outset? Can innovation still be achieved within these relatively narrow parameters? Attendees will learn all this and more in a talk that touches upon all aspects of hyper-casual game development and aims to equip developers with the best possible chance of hyper-casual success.
Takeaway:
The definition of hyper-casual, based on Kwalee's experiences developing and publishing successful titles - as well as analysing dozens of competitors.
Some concrete "dos and don'ts" for those looking to develop a hyper-casual game.
Key principles of hyper-casual game design, conveyed via specific firsthand experiences.