Shay Thompson
Level Up Link Up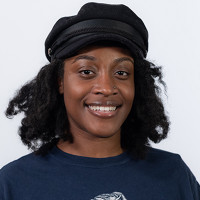 Develop:Star Awards 2020 Diversity Star Nominee.
Shay Thompson is a presenter working in the games industry. Shay has hosted McLaren Shadow Project related content on YouTube. Outside of that, Shay has also hosted panels and podcasts for Bafta and previously streamed for Xbox UK. Shay is also a producer at Glass House Games, a games media outlet based in London. Shay is also the founder of Level Up Link Up, an initiative aiming to make the games industry a more diverse place.
Shay Thompson is speaking at the following session/s
Live Panel: Diversity - The Road to the Future
Monday 2nd November:
16.00 - 16.30
The Diversity Star Award celebrates an individual who has shown a commitment to promoting diversity and inclusivity within the games industry. In this session the 2020 Diversity Star nominees get together to discuss their experiences of diversity in the industry, the challenges they've faced personally and in championing the cause. They will share actionable tips and advice on how to create a fully diverse and inclusive workforce, plus their visions for a brighter future.
Hosted by Kish Hirani, Chair - BAME in Games (Diversity Star Winner 2019)