Sam Cox
Frontier Developments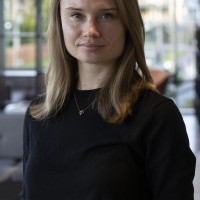 Sam is a video editor with 8 years of experience, two of which have been in the games industry. Having played games all her life, with Bioshock being one of my all-time favourites, Sam is fascinated by the ability of games to tell stories and feel like we're only just seeing the potential of the medium.
Sam Cox is speaking at the following session/s
Rising through the Ranks: Women in Gaming
What's it like to break through in an industry that is still heavily male-dominated? Where do you even start? What can you contribute and why are you stressing about it? Whether you are looking to find a way into gaming or want to know more from the women who are already a part of the industry, this Frontier fronted roundtable is all about asking the right questions to define opportunities that will help women succeed, and openly talking about the experiences that helped shape us into the women we are today. With guests across varying disciplines and experience levels, we will look at how to deal with everything from stressful deadlines, to negotiation tips, from being Emotional Creatures™, to defining moments in our career – and why it matters to talk about it all. Chaired by Bo Marit (Lead Community Manager), we've got five amazing women from different backgrounds and experience levels: Samantha Cox (Sr. Video Artist), Robyn Rutter (Senior Product Manager), Chanté Goodman (Community Manager), Philippa Moore (Programmer), and Samantha Marsh (QA Tester). Our hope is to empower others to take the plunge into a brilliant industry filled with other like-minded and creative individuals.
Takeaway:
Inspire others to enter the gaming industry, regardless of background, interest, or education.
Hear from and ask questions to successful women at Frontier.
Share experiences about starting and working in a male-dominated industry.