Robin Gray
Gayming Magazine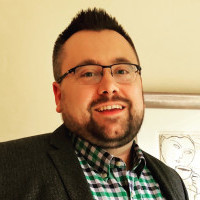 Develop:Star Awards 2020 Diversity Star Nominee.
Robin Gray is the co-founder of Gray Jones Media, an LGBTQ media company who produce online magazines, podcasts, live events and TV shows. In June 2019, he launched Gayming Magazine, the world's only LGBTQ video game magazine. Since then, the online magazine has grown to a readership of 65,000 globally. Coming up in February 2021 the magazine is hosting the Gayming Awards, the world's first LGBTQ video game awards. Read Gayming Magazine at gaymingmag.com and follow us on socials @gaymingmag.
Robin Gray is speaking at the following session/s
Live Panel: Diversity - The Road to the Future
Monday 2nd November:
16.00 - 16.30
The Diversity Star Award celebrates an individual who has shown a commitment to promoting diversity and inclusivity within the games industry. In this session the 2020 Diversity Star nominees get together to discuss their experiences of diversity in the industry, the challenges they've faced personally and in championing the cause. They will share actionable tips and advice on how to create a fully diverse and inclusive workforce, plus their visions for a brighter future.
Hosted by Kish Hirani, Chair - BAME in Games (Diversity Star Winner 2019)