Rebekah Valentine
GamesIndustry.biz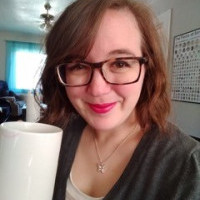 Rebekah Valentine is a games journalist based in Kansas City, Missouri, where she primarily writes for B2B publication GamesIndustry.biz. She's also been published in USGamer, PC Gamer, The Pitch, and Wirecutter. In her spare time, she attempts (and sometimes succeeds) at recreating video game food in the real world in preparation for her upcoming games, food, and culture-focused podcast, The Cozywood Kitchenette.
Rebekah Valentine is speaking at the following session/s
KEYNOTE: Talking 'Animal Talking' with Gary Whitta
Monday 2nd November:
15.00 - 15.30
With late-night talk shows forced to make dramatic shifts due to the COVID-19 pandemic, screenwriter and author Gary Whitta found a way for the format to thrive: by putting it inside of Animal Crossing.
In this fireside chat, Whitta sits down with journalist Rebekah Valentine to discuss the explosion of his Twitch show Animal Talking and its numerous celebrity guests, his shift to holding talk shows in Fall Guys and a Dungeons & Dragons campaign in Animal Crossing as he built a community around his shows, and his broader work as a writer for film, TV, games, and literature.
Hosted by Rebekah Valentine, GI.biz