Rachel Rakowski-Gaskin
Jagex Game Studio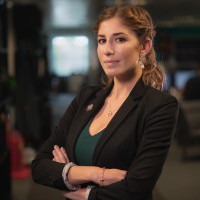 I'm the Head of Esports at Jagex Game Studio. I got into esports as a player for Blizzard's MOBA title, "Heroes of The Storm" before moving into live production for esports as an Audio Engineer working on Blizzard & Activision titles. From there, I worked in various production and senior managment roles within esports before making my way over to Jagex to head up our esports and compeitive play initiatives here at the studio. In my free time I compose music for games, sketch, and do various other creatively nerdy things. Basically anything I can do where I'm challenged to create or experience something new is my cup of tea.
Rachel Rakowski-Gaskin is speaking at the following session/s
Building a Better Esport
The aim of the session is to introduce delegates to esports, how it makes money, and what you should be focusing on when building a great esports program for your business/product.
Takeaway:
How esports makes money, how to build an inclusive and comprehensive esports program, how to improve product longevity with esports