Natalie Wicks
Double Eleven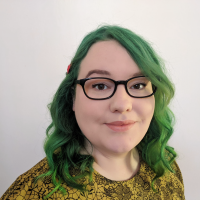 A finalist in the 2019 MCV Women in Games awards, Natalie currently works as Product Design Manager at Double Eleven. Her role involves designing Marketing and PR campaigns for console titles, as well as product and asset design. As part of her role, Natalie is responsible for creating pitches for multi-million pound projects, including Minecraft Dungeons, Prison Architect and Rust. With a CV including IT training, board game reviews, graphic design and stand up comedy, Natalie has a wide and varied skill set with a heavy emphasis on figuring out what people want and how to best to give it to them.
Natalie Wicks is speaking at the following session/s
Nailing the pitch: Practical Skills for Securing Multi-Million Pound Projects
Monday 2nd November:
10.00 - 10.30
Part of a team responsible for securing multiple high-profile projects, Natalie discusses her methods for designing, creating and delivering successful pitches and presentations. Whether you're pitching your own game to a publisher or trying to secure work-for-hire, a thorough and well-reasoned approach can make or break your project. The lecture will include practical advice on how to approach and create high quality documents, as well as talking about common pitfalls and easy-wins, with content ranging from high-level objective-setting, document design rules, presentation delivery and applying a product design methodology. The lecture focuses on objective-based design as a tool for creating contract-winning work.
Takeaway:
Objective-based design
How to define your pitch goals, your audience, and their needs
How to design and present high-quality pitch documents
How to avoid common pitfalls and eliminate risk