Michael Cook
Queen Mary University of London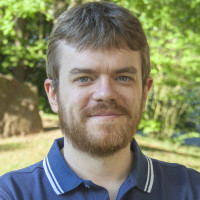 Michael Cook is an AI researcher and game designer, currently working at Queen Mary University of London where he holds a Royal Academy of Engineering Research Fellowship. He is best known as the creator of ANGELINA, the game-designing AI, and the founder of PROCJAM, the Procedural Generation Jam. He researches ways to model game design with AI, and how that AI can, in turn, help people create games or make games on its own. He is currently also working as the designer and programmer on the action-hacking game Rogue Process, and writes about game development and generative AI, most recently writing the MIT Press book "Twitterbots: Making Machines That Make Meaning" with Tony Veale. He collected all but one of the strawberries in Celeste, which he feels is worth mentioning even though he didn't get the achievement for getting the last one.
Michael Cook is speaking at the following session/s
Loading The Dice: Tools And Techniques For Taming Procedural Generation
Procedural generation is being applied to every game genre, mechanic and system you can think of, but actually sitting down and trying to use it can often be a scary process of unexpected problems, catastrophic failures, and head-scratching statistics and probabilities. If you don't feel like rolling the dice with your game, never fear. In this talk, procedural generation expert and AI researcher Mike Cook will walk you through some useful ways to analyse, troubleshoot and discuss procedural generators, using some of the latest ideas from academic research. We'll look at how to work with designers to clearly specify what we want from a procedural generator, how to analyse generative spaces to find the limits of what your generator can do, and how to use parameter space search to explore the deepest, darkest reaches of your generative system. Along the way we'll also look at why Slay the Spire is a procedural generator, how Spelunky solves its problems by blowing them up, and why the real procedural content is the friends we made along the way.
Takeaway:

Attendees will learn how to
Discuss and define evaluation criteria for generated content with designers, and understand why this makes analysis easier.
Perform expressive range analyses to critically assess and visualise what their generative systems can and cannot do.
Create better tools that help people visualise and edit generative systems more clearly.
Take lessons from how other games have solved generative problems, and use them to fix or bypass issues in their own work.