Lizi Attwood
Furious Bee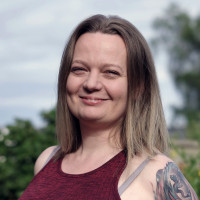 Lizi has been working in the industry for over 17 years. In that time she has contributed towards more than 20 titles. Lizi founded Furious Bee five years ago as Technical Director. We help other people make their games and we also dabble with our own stuff in between. Most recently we worked with Sam Barlow to develop Telling Lies.
Lizi Attwood is speaking at the following session/s
Localising Lies
A visual, technical and entrepreneurial adventure through more than two years developing the spiritual successor to Her Story with a highly distributed team. Lizi will present the developmental journey of the project using a visual timeline showing progression of the software as it came into being, all the way through to a description of the small incremental polish that went in at the end. Showing screenshots to demonstrate the iterative process and describing the technical implementation of some specific features. Such as how it was localised into eleven languages, when the gameplay is heavily dependent on the subtitle text and the searches that the players make. As well as how videos are played just as smoothly backwards as they play forwards. All along the way with an underlying nod to the way that Furious Bee works with its clients and operates a profitable business.
Takeaway:
Gain insight into the journey Telling Lies took from prototype to polished released title.
Learn about the implementation of Some specific features such as localisation and scrubbing.
Understand the way Furious Bee develops games for its clients.