Liesa Bauwens
Frontier Developments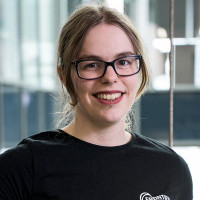 Liesa Bauwens is a Senior Artist at Frontier and has been with Frontier Developments for over four years. She has worked on Planet Coaster, Jurassic World: Evolution and, most recently, Planet Zoo.
Liesa Bauwens is speaking at the following session/s
Scenery Art of Planet Zoo – Designing assets for a highly creative player base
Monday 2nd November:
12.00 - 12.30
Releasing a game that allows the player to be as creative as they want is challenging, especially when you provide over 3000 assets. Liesa and IJke offer a retrospective on two and a half years of art development with a highly creative player base in mind. The lecture starts with the lessons learned from Planet Coaster and how they were taken on board for Planet Zoo. It's hugely important to anticipate the needs of players and the concept stage is used to identify useful and versatile assets. We take a look at the popularity of certain types of assets, using telemetry from the live game. We also take a look at the unconventional contribution our concept artists made. They were integral to the look and feel of the game, and they used their knowledge of the assets to create in-game buildings and scenery. Our concept artists received a new responsibility in the production pipeline; designing and playing with the in-game assets. Having our concept artists play and build in-game gave us a lot of strong assets, and an insight into which assets were missing. Finally, we take a look at balancing the game to account for multiple player types. Our game is popular with building and management players. Some like to build a beautiful zoo, and some like to build a functional zoo. Those players have different expectations and we look at which solutions we found to satisfy both.
Takeaway:
Concepting for a highly creative player base – how to anticipate their wants and needs and balancing hero assets vs versatility. Retrospective on where we went right or wrong + player telemetry.
Taking concept to the next level – Concept artists who play the game contribute more to its progress and design. We look at how they have made an impact on the game post-concept.
Balancing scenery for creative players versus pure management players – different players have different expectations, what solutions did we find to manage both?