Khally Saarman-Jones
Payload Studios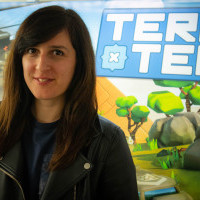 Khally is HR and Facilities Manager at Payload Studios, creators of the award winning TerraTech and the Tentacle Zone (events and games hub).

In 2019 Khally launched Payload's diversity initiative, including the Game On series of inclusion focused events. These regular events are open to the wider games industry and accelerate change by improving knowledge and understanding of issues related to inclusion via free panels, workshops and talks. Over the last 18 months, the events have welcomed hundreds of attendees from over 200 different studios and organisations.

Khally also has over a decade of experience working in the creative industries, is a games industry mentor, inclusion advocate, and actively promotes the industry through educational outreach.
Khally Saarman-Jones is speaking at the following session/s
Driving Diversity: Why It Matters and How We Can Make Our Studios More Inclusive
Tuesday 3rd November:
14.00 - 14.30
Driving Diversity will discuss the business case for building diverse and inclusive studios and demonstrate why this is integral to the future success of the games industry. Khally will highlight some of the key challenges of creating more inclusive workplaces and provide solutions, including actionable steps for both companies and individuals.
Takeaway:
The business case for building more inclusive and diverse games studios

The key challenges of creating more inclusive workplaces and a diverse games industry

Actionable steps to promote workplace inclusion that attendees can use to inspire change within their own organisations