Kelly Vero
SO REAL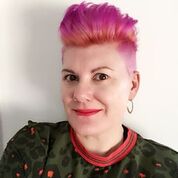 Crafting a career in development throughout some of the world's most famous franchises, Kelly always knew that she would work at the top-flight of video games. Naturally entrepreneurial, she has led and continues to navigate game businesses through the often-delicate world of projects, budgets, and production. With enviable experience in video games development from AAA to mobile, Kelly is the games evangelist here at SO REAL; not only to share the gospel according to us, she's the main contact for game developers worldwide who want to use SO REAL technology in their games
Kelly Vero is speaking at the following session/s
Double Down: A Guide to Digital Twins for the Games Industry
Kelly Vero will take you on a journey through the evolution of games through emergent advances detailing challenges and issues surrounding technology (and personnel) to the edge of learning. In today's climate we face an overwhelming need to develop faster and ship quicker. How can Digital Twins support game technology from payment solutions to art asset development without affecting our product development cycles and life cycles? This is a must attend for research & development, tech leads, art devs and producers.
Takeaway:
You will understand the changes affecting the games industry in emerging tech
VR will no longer be a dirty word – we can make games faster using twinning
Developing on the bleeding edge, seeing the future and creating it through tech which lives in your studio now.
All attendees get a free Twin – well worth the attendance for anyone's money!