Katie Goode
Triangular Pixels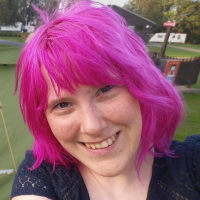 Katie Goode is Creative Director and co-founder of Cornwall based, BAFTA nominated, Develop Award winning Triangular Pixels. She started as a games designer in 2008, worked in a range of AAA and smaller studios, on first party, freemium, mobile and serious games, and in XR since 2012. Breakthrough Brit for 2018, she has a passion for new user experiences and sharing all she has learnt along the way with other developers.
Katie Goode is speaking at the following session/s
Starting, Surviving and Thriving - a Micro Studio Roundtable
Business advisers are so often recommend hiring more people, getting investors and sharing equity. But studios come in all sorts of shapes and sizes, so no single direction fits all. Share and hear ideas, stories and anecdotes of starting and "growing" a micro studio through all sorts of ways. For single-person developers, family-run studios, remote-based teams and more. Hear about getting funding, getting income, paying yourself and others, and balancing your time. 6 years establish studio, Triangular Pixels, host a roundtable where you will walk away with some great tips for the studio you run now, or will create in the future.
Takeaway:
Ways people have started their studio
How a studio has been structured
If and when to hire people
Sources of income and getting paid
Getting brand awareness