Kate Killick
Mojiworks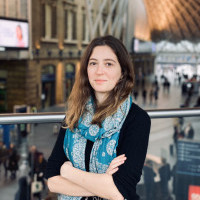 Kate started her first company while still a student, releasing a BAFTA-winning game published by Microsoft. She spent several years building up experience in the world of tech startups as a UX designer before rejoining the games industry as senior designer at Mojiworks, where she leads a team creating games played by millions on next-gen chat platforms.
Kate Killick is speaking at the following session/s
Chat Is Where It's At: Designing For Gaming's Biggest New Platforms
Chat platforms are the biggest thing to hit mobile gaming since the App Store. With the likes of Snap, Facebook and Apple now supporting games in their messaging apps, there are huge opportunities for developers to reach a bigger, broader audience than ever.
Takeaway:
Attendees will learn
Why chat games are a Big Deal.
How to approach designing for them, and the importance of going beyond porting existing mobile games.
Why and how to put the audience and social play at the centre of your game design.
Insights into the differences between chat and mobile games, and between the different chat platforms, using case studies from iMessage, Instant Games and Snapchat.