John Broomhall
Audio Track Chair, Composer and Game Audio Specialist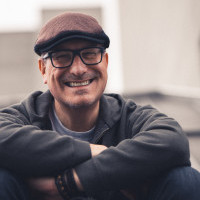 As well as curator and chair of the Develop Conference audio track, John is an Ivor Novello award-nominated composer, game audio specialist and commentator as well as co-founder/host of Game Music Connect plus one half of EDM music artist STRING THEORY (Modularity) signed to Bradley Zero's Rhythm Section International. He's written music for recent games LOST EMBER and PHOENIX POINT and iconic classics TRANSPORT TYCOON and XCOM/UFO: ENEMY UNKNOWN. He has held a number of senior in-house and outsourced game development management roles and written dozens of articles on music and sound.
John Broomhall is speaking at the following session/s
Lydia Andrew: Behind the Scenes - In Conversation with John Broomhall
Monday 2nd November:
13.00 - 13.30
Senior Audio Director Lydia Andrew's extensive career includes overseeing and directing the critically acclaimed and award winning music, sound and dialogue for several key titles in Ubisoft's renowned ASSASSIN'S CREED series, as well as recently heading up audio production for Immortals: Fenyx Rising. In a unique conversation for Develop, she'll discuss her approach to consistently envisioning and delivering compelling world-class game audio.
Ben Minto: From Battlefield to Star Wars - In Conversation With John Broomhall
Wednesday 4th November:
13.00 - 13.30
Studio Audio Director, Ben Minto, reflects on 13 years at acclaimed game developer, EA DICE, whose mantelpiece strains under the weight of countless awards trophies for best of breed game audio across a string of hit titles. They've even been trusted to add to the hallowed Star Wars canon. We ask him to share key insights to the sustained success he's enjoyed alongside his pioneering audio colleagues.