Jarl Ostensen
Polystream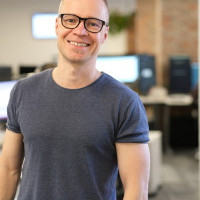 Jarl is the Director of Engineering for Streamer Technology at Polystream, leading the research and delivery behind Polystream's unique streaming technology. Prior to joining Polystream in 2016, Jarl lead the Service and Technology organisation at Microsoft's Lionhead Studios, lead Mobile Technology at Supermassive, and has helped deliver many great and successful games at Electronic Arts, all the way back to working at the fabled Bullfrog Studios, creators of Theme Park World and the Dungeon Keeper series.
Jarl Ostensen is speaking at the following session/s
GPU virtualisation: Cloud gaming beyond video streaming
This talk will outline the architecture of the cloud gaming pipeline we developed at Polystream. Attendees will learn why there is a need for an alternative to video streaming and how to virtualise the GPU to stream compressed graphics commands in APIs such as D3D11. We will detail how to stream AAA titles, in under 16 milliseconds, without source changes. A description will be given on how to use Renderdoc for automated graphics testing and how to leverage ISPC to extract the maximum performance out of AVX-512 on cloud servers. We will also discuss the unique challenges and tradeoffs of creating bespoke tools and algorithms for visualizing and compressing real-time GPU data.
Takeaway:
Detailed technical understanding of the command streaming process and requirements
Pros and cons of command streaming as a stronger alternative to video streaming for 3D interactive content and applications
Clarity on cloud architecture for command streaming