Harinder Sangha
Sumo Digital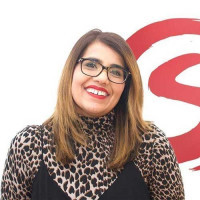 Develop:Star Awards 2020 Diversity Star Nominee.
Harinder Sangha - Operations Director of Sumo Digital. Sumo Leamington has just won the GI.biz 2020 Diversity Award,, as well as being recognised as one of the best small studios to work. Before she joined Sumo, Harinder has worked in the industry for 12 years, working for SEGA and Codemasters. Harinder is an Ambassador for SpecialEffect. Sits on the advisory board for Women in Games and has recently been elected to the board of Ukie.
T
Harinder Sangha is speaking at the following session/s
Live Panel: Diversity - The Road to the Future
Monday 2nd November:
16.00 - 16.30
The Diversity Star Award celebrates an individual who has shown a commitment to promoting diversity and inclusivity within the games industry. In this session the 2020 Diversity Star nominees get together to discuss their experiences of diversity in the industry, the challenges they've faced personally and in championing the cause. They will share actionable tips and advice on how to create a fully diverse and inclusive workforce, plus their visions for a brighter future.
Hosted by Kish Hirani, Chair - BAME in Games (Diversity Star Winner 2019)