Gary Whitta
Screenwriter, Author, Game Designer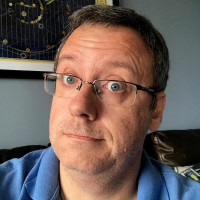 Gary Whitta is the former Editor-in-Chief of PC Gamer magazine and now an award-winning screenwriter best known for the explosive post-apocalyptic thriller The Book of Eli starring Denzel Washington, and as co-writer of Rogue One: A Star Wars Story. He also co-wrote the Will Smith sci-fi adventure After Earth, and was writer and story consultant on Telltale Games' The Walking Dead, for which he was the co-recipient of a BAFTA award for Best Story.
Most recently he served as writer on the animated TV series Star Wars Rebels. He also wrote the film adaptations of the Mark Millar comic Starlight and David Petersen's Mouse Guard for 20th Century Fox, and the David Fisher book The War Magician for StudioCanal and Benedict Cumberbatch. He recently adapted The Last Jedi for Marvel Comics. His first novel, Abomination, is now available, and his original 12-part Image Comics series Oliver is currently in publication.
Born and raised in London, England, Gary currently lives with his wife and daughter in San Francisco.
Gary Whitta is speaking at the following session/s
KEYNOTE: Talking 'Animal Talking' with Gary Whitta
Monday 2nd November:
15.00 - 15.30
With late-night talk shows forced to make dramatic shifts due to the COVID-19 pandemic, screenwriter and author Gary Whitta found a way for the format to thrive: by putting it inside of Animal Crossing.
In this fireside chat, Whitta sits down with journalist Rebekah Valentine to discuss the explosion of his Twitch show Animal Talking and its numerous celebrity guests, his shift to holding talk shows in Fall Guys and a Dungeons & Dragons campaign in Animal Crossing as he built a community around his shows, and his broader work as a writer for film, TV, games, and literature.
Hosted by Rebekah Valentine, GI.biz