Elle Osili-Wood
Video Games Presenter and Journalist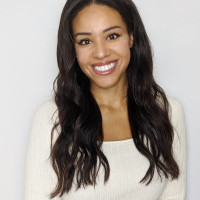 Elle Osili-Wood is a video games presenter and journalist, and has been named by GamesIndustry.biz as one of the most influential women in gaming. Seen on screen for a huge range of brands, including PlayStation, Marvel, Ubisoft, and the BBC, Elle has over a decade of experience in the industry. Having started her career as a political reporter for the BBC, Elle quickly gravitated towards her love for games, and has gone on to become one of the most recognisable faces in gaming, whether sitting on the BAFTA Games Committee, investigating the science of games for BBC Sounds, or presenting from E3 for PlayStation.
Elle Osili-Wood is speaking at the following session/s
KEYNOTE: Running a Game Studio - All You Need to Know
Wednesday 4th November:
10.00 - 10.45
During this relaxed discussion, four of the UK's most inspiring studio heads share their years of experience and insights into running a successful studio today. The discussion will cover establishing a creative and productive workplace, making profitable games and selling them in the ever-changing landscape of this industry. They will also examine the importance of accessibility, inclusion and community within games today. Whether you're an indie start-up or a seasoned developer, this chat will give you a fresh perspective on running your studio.
Hosted by Elle Osili-Wood, Video Games Presenter and Journalist
elleosiliwood.com