Elizaveta Kostyukhina
Supersolid Games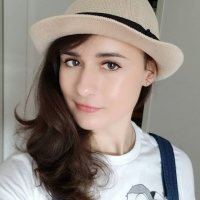 Eli started her career at leading social casino specialists Plumbee (now GSN Games) and Product Madness before moving to Supersolid Games to define and lead their strategy for growth as Head of User Acquisition. During her time at Supersolid, Eli has not only focused on connecting the company's titles with millions of loyal new players using her knowledge of ASO and User Acquisition, but having recently stepped up into a Product Manager role, Eli is now supporting Supersolid's full game development process with her marketing and business insights. Eli is a widely respected specialist in her field and has been regularly invited to share her knowledge at industry events, including Mobile Growth Summit Berlin, Pocket Gamer London and Casual Connect Europe.
Elizaveta Kostyukhina is speaking at the following session/s
A Practical Guide to App Store Optimization
Wednesday 4th November:
14.00 - 14.30
Good ASO is vital in this modern mobile landscape; in increases app visibility, store rankings, it drives organic installs, and best part; it's virtually free. Sadly, it is not as widely used by games companies and apps as it should be. ASO can easily be used by large companies as well as small start-ups and when done right can drive a large number of organic installs, however, when not done right it can negatively impact your games data and other areas of user acquisition. In this session you will learn how to get your app discovered on the IOS and Android stores, the most important areas to focus on, how to test your ideas and the positive and negative impacts this might have on your game, and the external factors that can impact your organic installs. You will also learn about different tools and research methods that can improve your ASO and how your ASO can also impact other areas of your game.
Takeaway:
Attendees will be aware of important areas to focus on on both platforms when deciding on a new ASO strategy
They will be informed of various external factors that can impact their ASO efforts, positively and negatively
They will be shown how ASO can positively and negatively impact other aspects of the game and user acquisition - Research, how to test new ideas, and useful tools that can help