Dinga Bakaba
Arkane Studios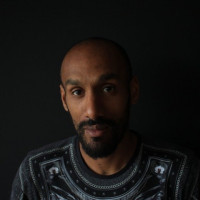 Starting in the industry as a QA tester for mobile games before smartphones were a thing, I joined Wizarbox in Paris as a game designer, working among other things on Jane Jensen's Gray Matter. I then moved to the Netherlands, at Playlogic on unannounced projects until the company closed, which brought me to Arkane, the studio I was dreaming to work at. There, I had the privilege to be one of the two (!!!) game designer/producers on Dishonored and it's DLCs, and lead designer on Dishonored 2 and Death of the Outsider. After a breath of fresh air helping nazis get killed properly on Wolfenstein Youngblood and Cyberpilot, I'm now getting my mind blown on a daily basis co-directing "DEATHLOOP" with my pal Sebastien Mitton. I love to use Powerpoint for things you wouldn't imagine, giving capoeira classes, being a cool dad, and fighting impostor syndrome.
Dinga Bakaba is speaking at the following session/s
Designer War Stories: Tales from the Trenches
Monday 2nd November:
13.00 - 13.30
These two veteran designers will swap war stories that will give a unique perspective to their career longevity. They'll discuss the essential questions on how their design style has evolved over the years. The chat will include insight into the importance of pushing yourself outside of your comfort zone and being excited about what you are doing every day. Are you motivating yourself and your team? Don't miss this intimate discussion that will make you laugh and remind you that you aren't alone in the trenches.