Damian Hosen
NaturalMotion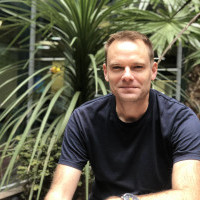 I've been working in the game's industry for the last 25 years, having graduated in a largely irrelevant modern history and politics degree. My entire career has been spent in the field of game design. Notable achievements include the five years I spent at Sony, where as Director of the New Concept Group, I led the team that created the design for Until Dawn. From there, I went to work on LittleBigPlanet at Sumo Digital as Design Director. For the last five years I've worked as Creative Director and Head of Design at mobile gaming pioneer, NaturalMotion.
Damian Hosen is speaking at the following session/s
Creating Great Game Concepts
Creating great concepts is difficult. It's an exercise in projection. The game you're designing now, will likely not be released for several years. Your job is to look at the state of things as they are, and predict how the market will evolve and grow. A great game concept foresees the potential of the future, and realises that in a fresh, innovative, but also grounded form. It's not just about what games are doing, you'll need to look at culture more broadly, and judge where interesting intersections between games and entertainment create opportunities for your title. In this talk, Damian will will give insights based on his experience of designing game concepts, leaving you with practical techniques you can use to enhance your design work.
Takeaway:
How to use and evolve genre in your concept design
How to synthesise your concept with broader cultural dynamics
How to utilise lateral thinking techniques to generate new mechanics and ideas