Claire  Blackshaw 
Media Molecule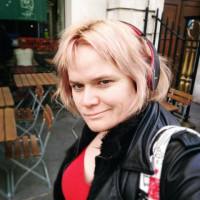 Claire is a queer geeky Creative Programmer with a passion for learning and general insanity from London UK. She works at Media Molecule as part of Sony. Claire also serves as director and creative at Flammable Penguins Publishing making comics and telling stories. When not programming, playing games, roleplaying, learning, or reading.
She started in the industry as a programmer, moved into design then bounced back between the two. Spending her days consulting various Playstation projects on online design and technical points. She has shipped several titles across eight platforms. Claire has also worked on R&D projects, pitches, consulting and developing a reputation as that crazy "left field" chick who codes.
Claire  Blackshaw  is speaking at the following session/s
Rebuild a Backend in 3 Months
Why would you throw away your entire backend 3 months before launching to your community and rewrite it from scratch? It sounds insane but it was the best decision we made. Come explore the journey why we ditched the popular modern design of microservices and NodeJS and went to an old school C++ hand-coded server. This is not a post mortem but rather a roadmap and argument why I think more developers should take this path.
Takeaway:
Why reworking your backend is not only possible but a good idea
Comparison between Microservices and Monolith
Performance metrics to consider