Catherine Doogan
UCL Queen Square Institute of Neurology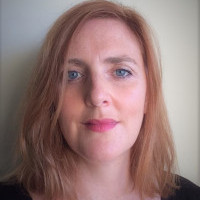 Catherine is a Post Doc and Clinical Psychologist who is working on developing three Digital Interventions in Neuro-Rehabilitation (DINR). The first, iTALKbetter, is an interactive word retrieval therapy for with people with aphasia; the second is to help people with dementia remember the names of familiar people, while the third is for stroke patients with visuo-spatial neglect. She uses qualitative methodology to interrogate best-practice co-design with patients with acquired brain injury and their carers.
Catherine Doogan is speaking at the following session/s
Gotcha! Co-design of a Serious Game to Help People With Dementia Name Familiar People
People with dementia often have problems naming familiar people, which is distressing for them and the people that they are trying to name. They know who the person is, and their relationship to them, it is just that they cannot access the name in word form. Previous work has shown that this condition can be improved by mass practice and adaptive cuing, using photo cards as prompts. With NIHR funding and working with a software team that specialise in gamification (SoftV), we have co-designed a therapy for this condition. Dr Doogan will cover, in some depth, the processes we used in patient and carer co-design (qualitative methodology) both to form the Gotcha! Therapy app and to understand why such patients wish to take part. Prof Leff will then show quantitative data from the app using a case-series approach to see if there were any changes in the participants ability to name trained faces.
Takeaway:
Understand how co-design can work with participants who have dementia
Understand why people with dementia and their carers get involved in app development and usage
See how single-case experimental designs allow for testing of clinical efficacy in individual users