Bogdan Vera
Media Molecule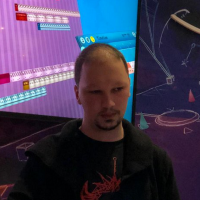 Bogdan Vera is a programmer at Media Molecule, with a focus on music and audio creation tools and user interaction. Previously he performed research in audio analysis and musical interaction at Queen Mary, University of London, before making a transition into game development.
Bogdan Vera is speaking at the following session/s
Player-Driven Audio Creation in Dreams: A Post-Vivem
Tuesday 3rd November:
13.00 - 13.30
This session takes a look back at the development of a novel, fully-fledged yet unique digital audio toolset within Media Molecule's acclaimed new title 'Dreams'.
These tools were designed and implemented from the ground up to create an experience that would be fun for complete beginners but also fulfilling for advanced audio creators - including the game's own audio team, which made the entire game's soundtrack using the same tools.
The session focuses on the challenges and knowledge derived in trying to bridge the gap between players and experts, both from a UX design perspective and a technical one. Programmer Bogdan Vera will also demonstrate content creation in Dreams focusing on unique workflows enabled by the game's mindset, which may have wider applications within the industry.
Takeaway:
Rare insights into the design, implementation and use of a unique digital audio toolset within a videogame intended for end users and game creators alike.

How the team overcame specific challenges of designing for both players and experts and what they learned along the way.

Why the unique workflows enabled by the game's mindset may have wider application within the industry.