Ben Minto
EA DICE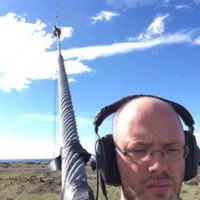 Ben Minto is a five times Academy (AIAS & BAFTA) award-winning Sound Designer/Studio Audio Director working out of EA DICE's studios in Stockholm. There he leads the studio's audio team, and is responsible for all the studio's audio output (Music, VO, SFX, Implementation & Mix), including the audio for the critically acclaimed Battlefield and Star Wars Battlefront franchises. He moved to Sweden in 2007, after having spent 7 years working at Criterion Games in Guildford as lead sound designer on both the Burnout series and Black; prior to that he started out at Acclaim's London studios.
Ben Minto is speaking at the following session/s
Ben Minto: From Battlefield to Star Wars - In Conversation With John Broomhall
Wednesday 4th November:
13.00 - 13.30
Studio Audio Director, Ben Minto, reflects on 13 years at acclaimed game developer, EA DICE, whose mantelpiece strains under the weight of countless awards trophies for best of breed game audio across a string of hit titles. They've even been trusted to add to the hallowed Star Wars canon. We ask him to share key insights to the sustained success he's enjoyed alongside his pioneering audio colleagues.