Andrew Webb
vTime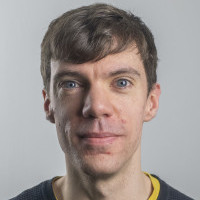 With an academic background in artificial intelligence, Andrew Webb is a machine learning research and development engineer at vTime' a leading AR and VR engagement company developing immersive communication experiences across new realities. Its flagship product, vTime XR, is the most widely available social XR experience today, with active users in over 190 countries.

With a PhD in heuristic optimisation, Andrew previously worked as a researcher at the University of Manchester on the LAMBDA project, working on methods of explicitly encouraging diversity in ensemble methods in deep learning, and on the PAMELA project on the integration of object detection into SLAM (simultaneous localisation and mapping) systems.
Interested in science communication and outreach, Andrew also runs a popular sci-comm Twitter account (@AndrewM_Webb).
Andrew Webb is speaking at the following session/s
Where to Start with Machine Learning
Wednesday 4th November:
15.00 - 15.30
The benefits of adding machine learning (ML) to your development arsenal are becoming increasingly hard to ignore. Whether used to adapt gameplay to user tastes and improve retention or to automatically create content, done correctly, its effects on both player and developer can be remarkable. But for studios with no prior ML experience, where should devs begin?
In this talk, Andrew Webb, machine learning engineer at vTime, will take delegates from zero to ML hero with the help of a virtual presenter, created during the session using ML avatar generation.
Offering invaluable advice on getting started, Andrew will take you through what is and isn't achievable with current machine learning tech, data acquisition, and how to make use of freely available and state-of-the-art work for your own projects. The talk will also cover how to get ready for your first ML hire, including preparing the data for initial projects and the hardware and resources you'll need to hit the ground running.
Takeaway:
Learn what is and isn't possible with current machine learning tech
Find out how to prepare before your first machine learning hire
Learn how to make use of state-of-the-art open source ML projects