Alexia Christofi
PlayStation London Studio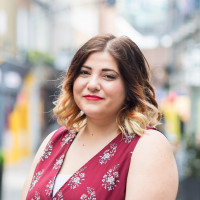 Alexia Christofi is a producer at PlayStation London Studio working within the tools and technology department. Responsible for managing the team developing a bespoke in-house engine, she works closely on the scheduling and production, implementing processes to ensure the project runs smoothly. As a key member of the VR team, she has been integral to the launch of Blood & Truth, the studio's latest action packed PSVR blockbuster. Alexia started her career at Lionhead Studios, working within the production team on titles such as Fable Anniversary and Fable Legends before heading to nDreams to work on two Google projects for Daydream VR. Her impact on the games industry has been recognised by GamesIndustry.biz who featured has a one of the '100 rising stars of the UK games industry'.
Alexia Christofi is speaking at the following session/s
From Roadmaps to Callstacks: A Producer's Guide to Demystifying Tech
Alexia Christofi is a producer working with the tools & technology team at PlayStation London Studio. Having never worked with a technical team before, join her as she shares the approach she took to connect with her team and have an impact, as well as detailing methods others can apply if they do not believe they have much technical acumen. Some of the things she will cover include: Facilitating. What could you help with in this moment? Prioritisation - How do we ensure things are done in the right order? How do we track work for explorative tasks? How do we leverage tech to make production easier? How do you bring changes to process to apprehensive teams? How do you convince a team of the value of new process? Are there clear differences between how a tech team and a game team work? How can you learn from your team? How can you communicate effectively with them? She will use examples from her day-to-day role to prove that you do not need to be a historically 'technical' person to have a technical impact.
Takeaway:
Attendees will leave with a firm understanding of a producer's role working closely with a technology and tools team, and leave with a list of methods that can be implemented to connect with the team and have the most impact.