Alexander McKinney-Raphelt
Mediatonic Games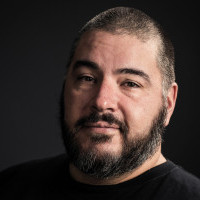 Alexander McKinney-Raphelt is the Studio Art Manager at Mediatonic and has been a total nerd since he played bootleg games on his dad's C64 for the first time. After almost 17 years in the industry, art-directing and managing game teams all around the world, he is still a nerd, but now at least the graphics are better.
Alexander McKinney-Raphelt is speaking at the following session/s
The Art of FallGuys: Ultimate Knockout!
Wednesday 4th November:
16.00 - 16.30
This session is about how we brought clumsy, colorful beans to life and got them to compete in the world's greatest gameshow. We will cover visdev-aspects, ideas that didn't make into the final game, how we came up with the general tone and energy of the FallGuys-Universe, and will talk about why we think that diversity makes us and our art stronger.
Takeaway:
Insights on the creation of FallGuys: Ultimate Knockout
Best Practices, Workflow and never seen art
What we learned after being the most downloaded PS+Game ever.