Ahmed Salama
DICE EA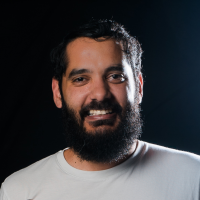 Ahmed is an Dutch/Egyptian Lead UI Generalist with 7+ years of experience in AAA games and 15+ years making UI. His work can be found in titles like Killzone: Shadow Fall, Horizon Zero Dawn, Battlefield V and Star Wars Battlefront II.
Ahmed Salama is speaking at the following session/s
Pacing the Flow of Information in AAA Games: From the Open World of Horizon, to the Battlefield's Sandbox.
Gameplay pacing is critical in deciding which information is presented to the player at any given moment, while they are playing. In this talk you will take home tools that can help you and your team pace the flow of information that is presented to your player. The talk will also cover how these tools were used to improve the HUD and in-game UI for the critically acclaimed Horizon Zero Dawn and to craft Battlefield V's onboarding experience
Takeaway:

The attendees will take away new ways to improve their game UI's information architecture, specifically with regards to how the flow of information is paced. They will take home tools, in the form of simple exercises and heuristics, that can be used to help their teams achieve this goal. They will also be shown concrete examples of how these tools have been used to ship features in major AAA games like Horizon Zero Dawn and Battlefield V.