Will Freeman
Freelance Games Journalist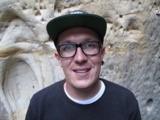 Will is a freelance games journalist. At almost 13 years into the job, he has by lines across The Guardian, Edge, Eurogamer, Kotaku UK, Vice Waypoint, IGN and others. He's also found a niche covering games for the games industry. He stood as Develop magazine's editor, and has contributed to GamesIndustry.biz, Pocketgamer.biz and MCV. He is currently editor of TheGamingEconomy. Will is also a game script editor, consultant, awards judge, events curator and researcher. Last year Will took home a champion's trophy at the UK Yo-Yo Nationals… competing in the lowliest division possible.
Will Freeman is speaking at the following session/s
It's Your IP. Keep It That Way
Creating original IP is hard. We all know that. But how you exploit it, value it, monetise it, and perhaps most importantly, how you protect it, are critical if you want to give your IP the best chance of success. Come and hear from this expert panel - chaired by Will Freeman, who will share their advice and experiences of how to get the most out of your IP and keeping it safe along the way.