Will Barr
Billy Goat Entertainment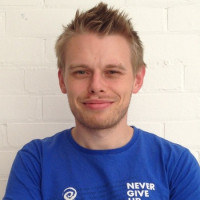 William Barr was born in the year of our Lord nineteen hundred and eighty-seven and thus is no longer eligible for any thirty under thirty accolades, a fact that reminds Will of his mortality daily. Since 2009 Will has been the director of Belfast based video game developer Billy Goat Entertainment Ltd, winners of the TIGA 2017 Creativity and Heritage award for the Brexit, sci-fi satire "Her Majesty's SPIFFING" (written and directed by Will, amongst other things). In 2019 Will oversaw the production of Supermarket Shriek, a unique co-op game designed to destroy even the most committed monogamous relationships, available on Xbox One, PS4 and Switch.
Will Barr is speaking at the following session/s
How to be an Expert in Failure
Thursday 11th July:
14.00 - 14.45
:
Room 2
William Barr is (at time of writing) Attorney General of the United States, a position he held previously during the first Bush administration from 1991 to 1993. He is also more successful than William Barr, a video game developer and director of Billy Goat Entertainment Ltd, who recently developed some game about a guy and a goat screaming in a shopping kart called Supermarket Shriek. It is this same William Barr (the latter) that explains secrets learned after a decade struggling, striving yet miraculously surviving as an independent video game developer… for now. William, a modest Ulsterman with average intellect and stature, does not often like to boast. However, one topic that he feels adequately qualified to ramble about semi-coherently for thirty to forty minutes is that of failure. He considers himself an expert in the field, and you (yes you, reader) could become an expert in failure too. Learn how to take failure on the chin, and in the eye, and in the groin, and then in the eye again. All while marching toward that (statistically unlikely) oft promised land that we in the business call financial stability. Disclaimer: Contains a sickening inspirational message of hope and reassurance beneath a deluge of sarcasm, problematic language, tedious sports analogies and questionable attempts at humour. Not to be missed.
Learn how to take failure on the chin, and in the eye, and the groin, and then in the eye again. Become an expert in failure with Will Barr!