Timothy Aidley
Google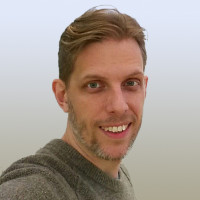 Tim Aidley started working in the games industry in 1997 at Criterion Studios. Since then he has worked at Sony, Relentless and Hutch, and spent four years working in VFX at Framestore. He now works at Google San Francisco on the Tilt Brush VR painting application.
Timothy Aidley is speaking at the following session/s
Desktop to Mobile: Porting Tilt Brush to the Oculus Quest
Wednesday 10th July:
15.00 - 15.45
:
Room 6
This session covers some of the challenges experienced and lessons learned in taking a VR experience designed for a high-end desktop, and getting it to run smoothly on mobile hardware. As well as hearing about the specific challenges we faced, you should learn about tools and approaches useful in porting your own Desktop VR application to mobile, with a specific focus on creativity applications.
An understanding of the kinds of challenges you may experience going from desktop to mobile
How to profile Unity VR applications
Useful techniques for optimizing Unity applications for mobile
Some of the differences between porting a game and a creative application