Tim Fletcher
Jagex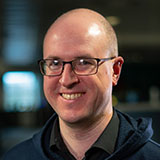 Tim Fletcher has been a Senior Designer at Jagex since 2011. He works on RuneScape, the still massively successful 18 year MMORPG.
Tim Fletcher is speaking at the following session/s
Elegance vs Intricacy - When Your Design Is Too Good To Have Depth
Thursday 11th July:
16.00 - 16.45
:
Room 3
As designers we're accustomed to designing with elegance, achieving as much as possible with as little as possible. Our instinct when faced with imperfection is to remove it, and often the simplest designs have the fewest imperfections. There are times, especially in RPG and strategy design, where this is the wrong approach. Elegant, pared-down games can be shallow, and many players are looking for something complex and demanding to really get their teeth into. This is especially true of long-running games with lasting audiences, like MMOs, where depth is crucial. In this talk Tim will look at when and why designing with intricacy is the better choice than elegance, and then examine the designs that great and especially loved games use to accomplish it successfully.
How to design intricately without designing badly
How to satisfy players who hunger for complexity without bogging the game down with it
How to accomplish depth of play without sacrificing quality