Tancred Dyke-Wells
Solar Sail Games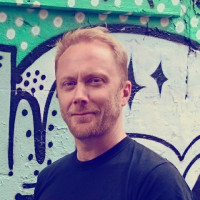 Tancred is the creator and director of Nintendo's Art Academy and Battalion Wars series and the co-founder of Solar Sail Games.
With more than twenty shipped titles and multiple credits as Lead Designer, Lead Artist and Creative Director, he has created games based around Pokémon and The Lord of the Rings and has directed projects for Warner Brothers, Disney and Microsoft. He started out making platform games on the VIC-20 and BBC Micro and is currently being taught Scratch by his kids.
Tancred Dyke-Wells is speaking at the following session/s
Working on Instinct Against the Clock: The Art of Smoke and Sacrifice
Wednesday 10th July:
12.00 - 12.45
:
Room 4
Tancred will talk about the creative approach, pipeline and production efficiencies that allowed him to generate the concept art, animation, UI, VFX, environments, characters and marketing artwork for this dark fantasy adventure game on an 18 month development schedule.
Concept-to-game method - lining up your concept art format with that of your game content for zero waste and fast, representative placeholder art
Pipeline Modularity - making a lot from a little using skins, variations and a modular approach
The loop between story and artwork - how unrelated sketches from imagination can feed into story themes (and back again) to eventually create a coherent, joined-up game world and narrative
Working straight from the Id - bypassing your conscious design process to express ideas directly and instinctively