Stuart Whyte
Sony London Studio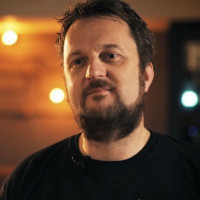 Stuart Whyte is the Director of VR Product Development at Sony London Studio. Having worked in the videogames industry for 30 years, he is now heading up the team behind the award-winning PSVR launch title, PlayStation VR Worlds and developing the studio's latest game, Blood & Truth - an action packed blockbuster built from the ground up for PlayStation's VR technology. An active member of TIGA, Stuart started his career as an adventure columnist for Amstrad Action magazine and since then, has worked on titles such as X-Com and Populous: The Beginning, BAFTA award-winning Harry Potter games, the Fable series, as well as Black & White 2.
Stuart Whyte is speaking at the following session/s
Pushing the Boundaries for PlayStation VR: Sony London Studio's Journey to Blood & Truth.
Wednesday 10th July:
12.00 - 12.45
:
Room 2
Sony London Studio have been at the forefront of the VR journey to date, having produced the launch title for PSVR, and providing input on the core technology for the headset itself. From mini game experiences that take you underwater with sharks, to living amongst cockney, east-end gangsters - the development team have pushed the boundaries for virtual reality and learnt a lot about VR along the way. Join Stuart Whyte, Head of VR Product Development to deep dive into everything the studio have discovered over the years, and how they took their knowledge from PlayStation VR Worlds into their latest action packed blockbuster, Blood & Truth.
Break down the key knowledge learnt by Sony London Studio on making a successful VR game
Discover the choices behind crafting believable characters and creating engaging movement systems
Discuss the challenges of designing for this exciting new medium and the studio's top tips to overcome them