Steve Sparkes
Sunny Go Wild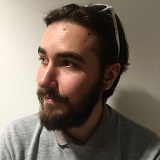 Steve has been making games for five years across the disciplines of sound, programming and currently design. He worked as QA on Just Cause 3 and Hitman 2 before taking part in Tranzfuser 2017 with Mochi Mode, where he is now a lead developer. Steve is also co-founder and game designer of new interactive theatre company Sunny Go Wild, who are performing at Wales' National Eisteddfod 2019.
Steve Sparkes is speaking at the following session/s
Crowdfunding: Making Games for Subscribers
Wednesday 10th July:
11.00 - 11.45
:
Room 1
How can an indie make money before releasing a game? Steve Sparkes investigates a new model for making games, where parts of the development process can be packaged and sold to subscribers on services such as Patreon. Steve will explore the ways that games developers are making "making games" a product in itself. Simple changes to a studio's workflow can start to bring in money long before release. Steve will also breakdown the processes of studios who make games specifically for subscription platforms, such as the Sokpop Collective who commit to making two games every month.
Learn about which parts of your development process can be used to give value to paying subscribers
Learn how to structure and run a Patreon service in synchronisation with developing your game
Learn how to scope out your subscription service so that it doesn't threaten your game's development