Steve Hollis
Frontier Developments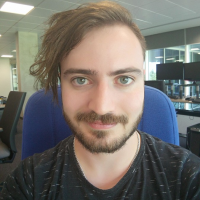 Steve Hollis is a Technical Sound Designer at Frontier Developments PLC. With 5 years' industry experience, Steve has lead the design and implementation of music systems on Frontier titles, bridging the gap between audio programming and sound design on the likes of Elite: Dangerous, Planet Coaster and Jurassic World: Evolution. A passionate composer himself, Steve's fascination with music system design keeps him continually looking for innovative ways to present music to players.
Steve Hollis is speaking at the following session/s
Emergent Music Systems: Stretching Two Hours of Music Over 1000 Hours of Gameplay
Thursday 11th July:
12.15 - 13.00
:
Room 6
In recent years, Frontier Developments have focussed on large sandbox titles (Elite: Dangerous) and park builders (Planet Coaster and Jurassic World: Evolution). Such titles present key challenges for music system design including extensive play times not to mention free-moving cameras and a wide dynamic range.
Frontier audio team members discuss their golden rules for 'emergent' music system design - when to consider them, and when to break them - to keep music from becoming repetitive, jarring or in contention with the rest of the mix. Expect practical examples and tips on how to construct and maintain these systems, integrating music in a way that's meaningful, reduces listener fatigue, and retains the quality and intended musical arc of the soundtrack.
Find out how building emergent music systems can improve flow within your game providing interactivity and freshness over vast hours of gameplay without sacrificing musical depth and complexity.