Simon Barratt
Cooperative Innovations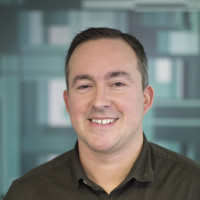 Simon began programming at the age of 6 and joined the games industry in 1999. He ran indie studio Four Door Lemon from 2005 to 2015 producing a large range of games across many genres and platforms. In 2016 he co-founded immersive technology studio Cooperative Innovations to develop social VR / AR technologies, experiences, games, and applications including co-op role-playing game 'Raiders of Erda' and the chaotic 'Spaceteam VR'. He's also a board member of national games trade association Ukie, games industry advisor for the School of Computing at the University of Leeds and ambassador for charity SpecialEffect
Simon Barratt is speaking at the following session/s
Social VR from a Business, Technical and Design Point of View
Thursday 11th July:
14.00 - 14.45
:
Room 5
This talk covers Cooperative Innovations 3 years of R&D, content creation and learnings in the Social VR space as well as the state of the market.
During the development of co-op RPG Raiders of Erda and 'co-op yelling game' Spaceteam, the team at Cooperative Innovations have created a set of tools and technologies that have helped them produce high-quality experiences with a relatively small team.
Hear about how these tools came about and how they are used in day to day development.