Sean Murray
Hello Games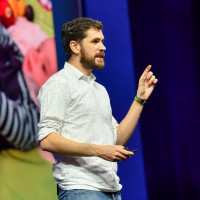 Sean Murray is a co-founder of Hello Games, a company he helped to build from a tiny indie studio of four friends, into an ambitious and uniquely successful independent development studio in just a few short years.
Coming from considerably larger companies, including EA and Criterion, Murray is a young industry veteran now focused on creating innovative artistic titles with a small creative studio.
He is best known as the creator of the innovative and multi-award winning No Man's Sky: a science fiction exploration game set in an infinite procedural universe, bursting with life, opportunity and adventure. No Man's Sky became one of the biggest new IPs to emerge this console generation, and was praised a technical miracle, especially from a such a tiny team.
Murray is a designer and managing director, but his first love is programming, with a focus on creating new technologies that push boundaries. Together with his Hello Games team, Sean is starting to look to the horizon and beyond, to the future of gaming.
Sean Murray is speaking at the following session/s
To Infinity and Beyond
Tuesday 9th July:
9.45 - 10.45
:
Room 2
In 2016 a tiny indie team from the UK launched one of the most successful new IPs of this generation. No Man's Sky was an ambitious and highly anticipated title, releasing dramatically into an increasingly polarised and vocal gaming landscape.
Three years on from release, it is clearly a labour of love, with huge updates both deepening and expanding its infinite procedural universe. Now it is played by more people than ever, and has turned some of its most vocal detractors into passionate fans. It is one of modern-day game development's great success stories.
At Develop, with the help of Edge editor Nathan Brown, Hello Games' Sean Murray will offer a candid behind-the-scenes look at how No Man's Sky was made, released and transformed – and what this modestly sized studio intends to do in future, once it has finished building a game the size of a universe.
Interview by Nathan Brown, Editor of Edge