Rob Bridgett
Eidos Montreal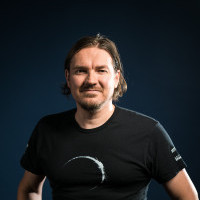 After studying Film & Television at Derby University (1996), Rob received an MA in Sound Design at Bournemouth University (1999) then took sound design/engineering roles at Matinee (2000) and Antenna Audio (2001). His first in-house game audio director role was at Climax in 2001 where he covered a variety of projects before moving to Vancouver in 2003 to become Senior Audio Director for Radical Entertainment. Over a 10 year tenure he worked on open world games and film-games collaborations, most notably Scarface The World is Yours (2006) collaborating with renowned movie sound designer, Randy Thom, on a post-production sound design and mix at Skywalker Ranch. In 2013 he moved to Clockwork Fox Studios in St John's Newfoundland making kids ed-tech products as a producer, audio director, implementer and composer. Since 2015 he's been Audio Director at Eidos Montreal and latterly responsible for the sound, music and mix of the latest entry in the Tomb Raider franchise. Throughout his career he's also written extensively about videogame sound practice publishing two books, and innumerable articles.
Rob Bridgett is speaking at the following session/s
Audio Keynote - Game Audio Culture: The Big Picture
Thursday 11th July:
17.00 - 17.45
:
Room 6
Audio director and writer, Rob Bridgett, draws on two decades of creating pioneering AAA game audio to reflect on what constitutes a balanced approach to making sound and music for videogames. In an ever-changing and inconsistent world, what grounds game audio practitioners to make them most effective within a fast moving, multi-disciplinary team environment as collaborative game developers as well as experts in their specialism?
In this keynote, Rob will discuss useful lenses which can be applied at almost every scale of comprehension of what it is we do and how it is we can achieve the critical quality of balance – understanding ourselves, our team, what we're making, and most importantly, understanding the audience we are creating games for.