Richard Vahrman
LocoMatrix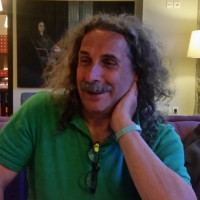 I started LocoMatrix 12 years making educational location-based games for children, including the award-winning, Invisible Buildings. Originally studied biology but moved into electronics and computing getting an MPhil whilst working with Heinz Wolff, at the Medical Research Council and later Brunel University and European Space Agency. I'm also an active musician playing accordion, and a tai chi teacher.
Richard Vahrman is speaking at the following session/s
ArtyFax: An Augmented Reality Game Designed for and Created by Children.
Wednesday 10th July:
14.00 - 14.45
:
Room 4
ArtyFax, designed as a term-long school project, turns research about local heritage sites into AR location-based games that are played on smartphones at the sites. During the project children create a story based on a historical character associated with the site and turn it into a series of videos. Each video is assigned to a specific location at the site. Children also make a model of a building or structure that would have been found at the site and turn this into a digital 3D representation using a process known as photogrammetry (you take photos of the model from all angles and software makes it AR ready). When playing the game, the user follows a trail to locations in sequence, triggering the playing of the videos (and thus telling the story). A projection of the model will be seen in AR when all the videos have been played. In the session I will be discussing how ARtyFax was conceived during a Design Sprint and how it has developed since then.
How a Design Sprint turned an idea about us creating a game into a game created by children
How we made a child-friendly process for creating augmented reality objects
How it's really, really difficult to get your games into schools even if you're doing it for free