Richard Mitchell
Monkey Science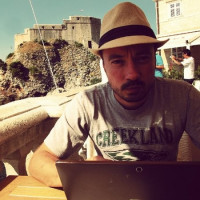 I have directed and shot commercials, promos, docs and a variety of fresh and exciting content for TV, cinema and digital platforms – working with BBC, BBH, Fallon, DKLW Lowe, Mother, The Viral Factory, Al Jazeera and many others. Making documentaries and story packages as well as commercials, promos and content for brands such as VW, Flora, Greenpeace, Rexona, Conran, VIASAT, Canon, Rimmel and the DCMS. An early guinea-pig/adopter of HD and digital formats; my University of Arts graduation film being one of the first to be shot and then projected in full HD at the BFI (NFT1) – after being shot and completely post-produced by myself. I started my Directing career shooting music videos for Rob Dickens (former CEO of Warner Music). I went on to get signed by Tantrum Productions as a Commercials Director. At the same time I was shooting documentaries, promos and digital content including scripted/unscripted presenter led pieces, obs-doc, nature, beauty, re-enactment and pretty much everything in between. Using drones, underwater cameras, low loaders, gimbals, bicycles, hot air balloons and sometimes tripods – I employ whatever technology is best used to tell the story and increase the production value – always striving to make the maximum visual impact with the budget and time available. I have taught short courses on Cinematography at the NFTS for Directors moving from Reality/News/Documentary to Drama. I have also taught at the Central Film School, creating modules on Cinematography, Directing and Visual Story Telling for their BA course. I'm currently tutoring on 360/VR to the BA courses at London College of Communication Previous films I have worked on have won awards, been official selections at major film festivals around the world and have accumulating millions of hits on YouTube. Now, I am focusing on the storytelling power of Virtual Reality. VR is a ridiculously good fit for my diverse professional background and most of my geeky personal interests.
Richard Mitchell is speaking at the following session/s
'Virtual Insanity' - Unity Meets Immersive Story Telling: A Filmmakers First Experience of 360/VR and Unity
Tuesday 9th July:
17.00 - 17.45
:
Room 5
Richard describes his experience making a 360/VR music video for UK D&B star Harry Shotta and his track 'Virtual Insanity'. Over the course of 18months learning 360 shooting, motion capture, 360 post-production and working with Unity and VR legend OliVR. What did he make? What were the lessons learned? How can Gamedevs and Filmmakers collaborate effectively? A newbies journey to the Immersive Frontier.
Making a 360 film is actually really complicated
The potential of collaborating with filmmakers on Immersive Projects
Gamedevs will inherit the earth