Rich Metson
Semaeopus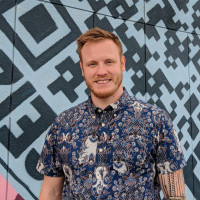 Rich is a work-at-home dad and co-founder of Semaeopus, an award-winning indie games studio. In his first full year as a dad, he and his partner Sarah were both proud parents and studio directors: in 2018, Semaeopus was named one of the CE50 Top 50 creative and innovative companies in England, the UKGF Smart Studio, and they ran a successful Kickstarter together - all before the baby turned one! Rich has a diverse background, having started out welding sculpture for world renowned artists, he went on to work as a technical artist in film and TV, as a freelance animator and Unity developer, and an assistant producer at BBC Worldwide Games, before breaking out to do his own thing and co-found Semaeopus. Rich has guest lectured at two of the UK's top creative universities, Central Saint Martins and the National Film and Television School, and spoken at games, tech, and hacker conferences around the world, from Sweden to LA. His writing and commentary on politics, art and the future of videogames is published in the Computer Games Journal.
Rich Metson is speaking at the following session/s
Bearing Indie Games and Babies at the Same Time
Thursday 11th July:
11.15 - 12.00
:
Room 7
Making games is hard, having babies is harder. Doing it at the same time? Are you nuts?! But when it's your business, you just might have to grin and bear it all. Just don't forget to breathe! Hear from this new dad and company director about the ups and downs of juggling life as a thirty-something wanna-be-everything. If you're a keen-to-be or soon-to-be indie mum or dad (or maybe you employ one?), listen in and learn, because having a small studio and a small person is a *huge* challenge - and one worth having - but not enough people are talking about it.