Raheel Yawar
Flying Sheep Studios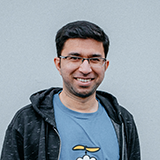 Raheel Yawar is a game programmer with a focus on web and mobile games. His motivation has been to take WebGL games to the bleeding edge. More recently he has been involved in researching how to make games player oriented using modern machine learning and artificial intelligence techniques. He has over a dozen published titles under his belt while working on IPs from animation studios like Disney and Dreamworks.
Raheel Yawar is speaking at the following session/s
In-game Content Generation Using Machine Learning
Tuesday 9th July:
11.00 - 11.45
Room 4
Adapting gameplay difficulty and content based on player profiles is vital for better retention. We take the example of the Free-to-play Dreamwork's Trollhunters RPG and take an in-depth look at how Machine Learning algorithms can be employed to discover player profiles and present profile relevant content. We go into implementation details on how these methods can be crafted and adapted for other game genres or use cases and how they can positively impact player retention. We then talk about a special breed of Machine Learning methods called Recommender Systems that can be used to take the load off the designers and learn from players about their skill level and preferences and use that information to tailor in-game content.
Game design practices for better player retention.
How Machine Learning algorithms can be adapted for generating in-game content.
Implementation instructions on how to craft these algorithms.