Nick Marshall
Bossa Studios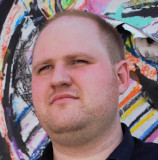 Nick Marshall started his games marketing career in the thick of the PC digital boom working on both Mastertronic's indie titles and retailer Get Games Go. With a handsome stack of experience in indie games publishing (and a dash of AAA with Warner Bros.) he's here to talk about games events.
Nick Marshall is speaking at the following session/s
A Guide to Succeeding at Exhibiting Your Game
Thursday 11th July:
14.00 - 14.45
:
Room 1
Our ever growing industry provides more and more opportunities for developers to get their games in front of consumers at expos. But how do you judge if an event is worth it and how do you maximise your game's presence on your limited budget? Is it even worth going at all? With a background in marketing and a veteran exhibitor of games Nick aims to give guidance to indie developers on the realities and problems that come with exhibiting along with some solutions to the big troubles smaller developers can face. This talk includes advice on planning, merchandise, press, measuring performance and more. With examples from across the industry and lessons learned the hard way this talk promises to be a concise, honest and hopefully witty guide on succeeding at games expos.
A realistic guide on how to exhibit your game to consumers and tackle problems along the way.