Mark Healey
Media Molecule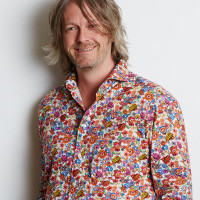 Mark Healey is Creative Director at Media Molecule. Mark joined the games industry in 1988 and has established himself as one of the industry's most multi-talented game developers. His area of specialisation is art but during his career Mark has coded, designed and contributed to game audio tracks. Mark joined Bullfrog Productions in 1994 and worked on some of their biggest hits including Theme Park, Magic Carpet and Dungeonkeeper. In 1997 Healey left Bullfrog to join Lionhead Studios where he worked on Black & White and Fable. His small contribution to the cult internet title Live for Speed gave Mark a taste for development on a smaller scale. In 2002 he began work on his own game, Rag Doll Kung Fu, working on the game's graphics, code, design and music with help from some friends. Inspired by this he formed a new development studio, Media Molecule, with the friends who had helped him make Rag Doll Kung Fu such a success: Alex Evans, David Smith and Kareem Ettouney, joined by Chris Lee. The studios first game, LittleBigPlanet was launched in November 2008 and it has gone on to make a slate of award winning games including LBP, LBP2, Tearaway and Tearaway Unfolded. The studio has just released their next big iteration on UGC driven games with Dreams – available now in early access on PlayStation.
Mark Healey is speaking at the following session/s
Creating Dreams with Media Molecule
Wednesday 10th July:
9.45 - 10.45
:
Room 2
Media Molecule is known for innovation and originality in all their titles - as well as giving community the tools to become creators themselves. Dreams, the latest release from Media Molecule, takes UGC to the next level, giving community accessible game development tools and a platform to share and collaborate with a global community. This fireside chat with the Mm directors will discuss the challenges of creating a tool that works both for a professional development studio and a newcomer to digital creation - and what happens when you open up the doors of creativity to everyone.
Interview by Will Freeman.